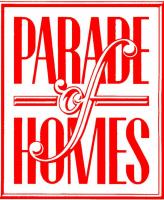 The 2010 Wake County Parade of Homes opens for three weekends starting Saturday, October 2 at noon and ending October 17 at 5 p.m. For those in home buying mode, the 45th Annual tour offers a great time to visit homes on the market. for those not in the market for a new home it is a great time to window shop. For complete details and information visit Raleigh Real Estate 411.
This event is FREE and open to the public. The Parade of Homes is North Carolina's largest open house. Come look at decorated homes, see floor plans, get ideas and leave inspired!
Map your parade route!
Visit the HBA to Pick Up a Book: Map out your route by picking up your Parade book early at the HBA office (5580 Centerview Drive, Suite 115 – Raleigh, NC 27606). Books will be available beginning Wed., Sep. 29. (limit one per person).  For directions, Click here.
Go Online: Log onto the HBA website (the week of Sep. 27 start your tour and route planning online!  Click here to start your planning!
Pick Up a Book During the Parade: Builders will have copies of the books in their Parade homes.
iPhone App: Access the Parade by using a new iPhone application!