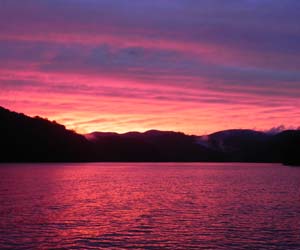 If you are looking for a new lakeside home or maybe a new summer haven in North Carolina, there is some great news. Thirteen exclusive home sites have just been released to buyers thanks to The Village at Reflection Lake Nantahala.
These home sites feature lake and long-range mountain views as well as bank-approved, discounted pricing.
Developer Jon Flaig commented, "We'd like to invite you to join us for a day at the lake. We are so confident that you will find great value and lifestyle at The Village, we bet you will want to build your dream vacation home and stay for a lifetime."
When buyers schedule a visit* to The Village at Reflection Lake Nantahala this summer, they will be treated to a full lifestyle experience including:
Lunch at the Lakes End Diner (home of the famous BIGfoot burger);
A $25 gas card;
A pontoon boat tour of the clear, blue lake;
A tour of available lots with unbeatable Lake Nantahala views; and
A chance to win a weekend at the lake this fall, in a cabin that sleeps up to 14.
The Village at Reflection Lake Nantahala features 13 home sites priced from $94,900 to $129,900. There is no build-out requirement, so buyers can take their time planning their dream vacation home or new home. For buyers wishing to enjoy the lake sooner, the perfect mountain cabin program is available and includes a 1,400 square foot cabin with a view-facing covered porch.
The Village at Reflection Lake Nantahala invites buyers to escape to the pristine waters and secluded forests of the western North Carolina mountains. Reflection offers customizable cabins in a private gated community with upscale amenities and gorgeous views of Lake Nantahala. Reflection is a tranquil retreat that's still easily accessible from Atlanta, Chattanooga, Charlotte and many other metropolitan areas. For more information or to schedule a day-at-the-lake tour, call 866-218-8439 or visit www.lakenantahalareflection.com/thevillage. Also, make sure to "like" our Facebook page http://www.facebook.com/ReflectionLakeNantahala.