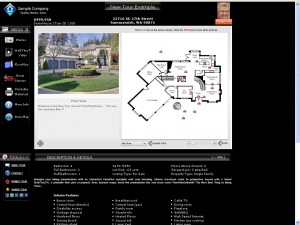 FloorPlanOnline® has launched a new version to provide Buyers, Sellers and Agents with valuable resources. This new more user-friendly version 2.o has an integrated website that includes upgraded navigation with different property content, and multiple tour customization options.
Home Shopper Features
The advanced site presents the home buyers with a myriad of Media options; including a Floor Plan Viewer with zoom-ability and full screen, Photo Viewer with large, high quality photos, WalkThruTM Video, and the new RoomPlanner that allows the user to drag and drop furniture onto the floorplan to experiment with furniture placement and design.
FPO 2.0 brings a new, high level of information to the home buyer about a listing. Our goal is to provide the most robust content platform for properties online, said Kris Cone, CEO of FloorPlanOnline®. To be able to see the floorplan of a home, click on a room and see the photo of that room – it's a powerful tool. To then further make it your own with the RoomPlanner gets the buyer interested and engaged.  We are taking great care to offer this premium service affordably and efficiently through full or self service options.
Listing Agent Features
The site also allows the listing agent to perform search engine optimization (SEO) on individual properties and do their own tracking via Google Analytics (or other tracking programs).
Visit FloorPlanOnline® for more information on version 2.0.