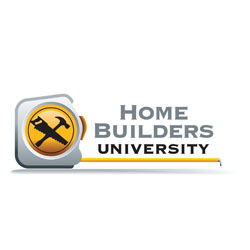 Builders in the Carolina real estate market know that their industry is fluid and constantly changing. What works today may be obsolete in a year or even months. Because of this, it is important to stay on top of the latest trends and developments. That's why Home Builders University (HBU) is a great resource for continuing your online education.
Worried about fitting classes into your busy schedule? Stop and resume courses as necessary and learn at your own pace. HBU offers flexible courses that are available whenever you need them.
The University is currently offering a class called Building Exterior Shell Training (BEST).
This course takes students through real-world experiences and teaches them how to prevent common construction errors. Mark LaLiberte, an expert in the building industry, will provide insight into things that are often overlooked by professionals. And for builders who want to continue learning outside the class, downloadable checklists and guidelines are available.
HBU is focused on keeping builders up-to-date with what's happening in the industry. Anyone interested in learning more should follow HBU on Twitter, Facebook or visit the blog. Builders should check these sites frequently to learn about upcoming classes on topics like social media and green building. For information about how HBU works or to register, visit the Home Builders University website.