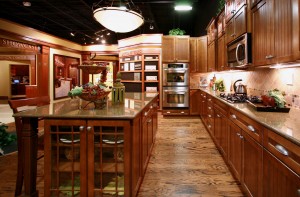 Tis the Season to shop from the convenience of your home and avoid traffic at the malls! Raleigh home builder, Standard Pacific Homes takes this concept a step further allowing new and potential homebuyers to shop for home options from their new Online Design Studio.
Featuring both a Buyer Mode, for new homebuyers, as well as a Browse Mode for potential homebuyers, this exciting new online tool is an extension of the centrally located Design Galleria in Brier Creek, which houses hundreds of options in its 3,600 square foot retail center. The online studio is meant to provide a smooth experience in option selection for buyers while showing potential buyers all the possibilities for personalizing their Standard Pacific Home.
The Online Design Studio Buyer Mode allows buyers to logon from the comfort and convenience of their own homes and browse various categories with hundreds of options. This system shows more than just pictures of the options. It allows buyers to do their research by viewing articles, manuals and price comparisons with other products, all in one place. Leslie Murr, Standard Pacific's Design Galleria Manager states, "The Online Design Studio allows our buyers to customize their new home at their convenience. They now have access to specific information about each products specifications and warranties, which allows them to make more informed decisions."
With this information, the buyer is able to create a Wish List. The Standard Pacific Homes Design Consultant is able to view the Wish List before the buyer's appointment at the Design Galleria, allowing the designer and buyer to confirm the selections with ease. Once a buyer has closed on their home, they will be able to continue to access all of the information they used in their selections process including online manuals for appliances.
Currently you can use the Online Design Studio for the following Standard Pacific neighborhoods in the Triangle: Laurel Park in Cary, Lennox at Brier Creek in Raleigh, Shiloh Grove in Morrisville and Brightleaf Crossing in Durham.
To learn more about Standard Pacific and Triangle new home communities please visit www.StandardPacificHomes.com or call toll free 888-222-2412.