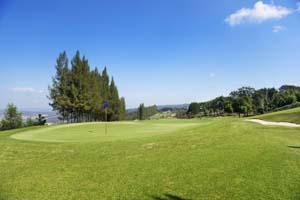 The Cliffs and Gary Player Design are excited to announce that The Cliffs at Mountain Park Golf Course is scheduled to open next fall. The is one of only a handful of golf courses currently being constructed in North America, and one of seven courses in The Cliffs Communities. The new course will be a part of the existing 5,000 acre Mountain Park residential community on the southernmost edge of the Blue Ridge Mountians.
The Cliffs at Mountain Park Golf Course will be surrounded by more than a million acres of State Parks and National Forests. The course has been designed with the highest environmental standards in mind, and is carefully planned to preserve the area's natural beauty. The course will also save money by using organic materials and implementing eco-friendly design practices.
The company expects grassing to be completed over the next few weeks with the course fully operational by the 2013 season.
The Cliffs Communities offers a unique collection of seven private communities nestled among lakes and mountains between Greenville, S.C. and Asheville, N.C. These residential Carolina real estate areas are bordered by thousands of national forests and state parks, and each is designed with a unique personality and style.
For more information about The Cliffs, call 866-411-5771.