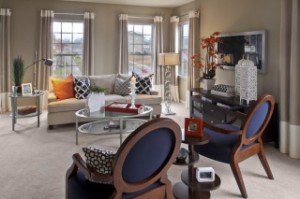 Two years ago, the housing market was slowing down and several companies were going out of business. That is also when The Interior Partners decided to set up shop. In those two years, Cindi MacPherson and Ashley Norred have experienced success after success with twenty projects under their belt. They've completed five residential projects, a restaurant and 15 model installations for home builders. They operate all across the Southeast.
How were they so successful in such a down market? Their low overhead, flexibility with clients and knack for staying in tight budgets have given them a competitive edge. In order to stay in budget, furniture was reused for different projects but accented with different items to provide a fresh look. Cindi MacPherson is extremely optimistic about growth potential in 2010 since the market is turning around.
Last fall, The Interior Partners won the Gold and Silver OBIEs from the Greater Atlanta Home Builders Association for best model home merchandising for $299,999 and under for their work in the Bryant Lake community of LaGrange, Ga.
The Interior Partners enjoys the creativity in residential projects. Currently, they are working on one project in Midtown Atlanta, a structure of glass, stone and steel, and another in the Vinings neighborhood that was damaged by the September 2009 floods in Georgia.
The Interior Partners would love to assist you with your next project. They serve the following areas: Georgia, North Carolina, South Carolina, Florida, Alabama or Tennessee. Contact them by calling 678-731-0926 or visiting their website, The Interior Partners.