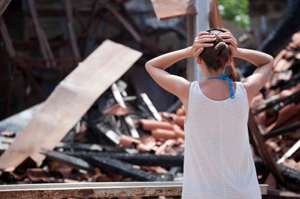 The recent devastation caused by tornadoes in Oklahoma may have you thinking about what you should do to protect your belongings. In terms of insurance, the experts say that the most important thing you can do is accurately and thoroughly document your possessions, and the best way to do this is through taking photos and keeping receipts. An article on the Equifax Finance blog, "
Natural Disaster Insurance Claims: What To Do When A Natural Disaster Strikes" provides some helpful tips for how to prepare now for if you were to ever fall victim to a natural disaster.
Where you live will dictate the types of insurance you might need. Here's a rundown:

Homeowner's Insurance – required by lenders, it usually protects against wind and fire, but not against flooding
Commercial property insurance – protects your business or office space if it is damaged in a man-made or natural disaster
Flood insurance – flood zones change over the years, so you may believe that your home is not at risk, but it may be
Earthquake insurance – if you live in an area that is very near a fault line, this may be worth buying

Take an inventory of your home and belongings with photos and videos. Take photos of anything of value and then do sweeping video shots of your rooms, being sure to include furniture, artwork, etc.
Keep receipts of major purchases (like furniture, artwork, appliances, electronics, etc.). Keep receipts in a waterproof filing cabinet or even better, scan receipts into your computer and save them on a portable storage device.
Keep a list of your insurance policy numbers and contact information for your insurance company. Keep this list in a locked box near an exit in your home, in case you need to evacuate in a rush, you can grab it quickly and go.
Make your home as watertight as possible with storm-proofed roof, gutters, doors, window and basement.
Keep a first-aid kit easily accessible in your home.
Check out the Equifax Finance blog for more tips on insurance, credit reports, taxes,
identity theft information and more.