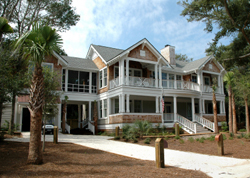 Randy Allen, a developer located in Charlotte, has had a long and successful career in Carolina real estate, as well as up and down the East coast. His company, Randy Allen North Carolina Developer, has achieved success due to his hard work, professionalism and leadership.
Randy Allen entered the real estate world in 1972, immediately after college. He started out by designing and overseeing the development of single family homes, starting with tiny neighborhoods. Now, through is company, he oversees teams of contractors to develop communities with more than 1,000 homes. The communities Randy Allen has worked on often include planned developments with parks and other features, as well as locations with waterfront lots on manmade lakes and marinas.
Randy's experience and professionalism grew over time, which led to him taking on even larger projects. In 2009, his company received an award from the American Council of Engineering Companies for a large-scale waste water treatment plant they built.
When asked about the secret to his success, Randy Allen attributed it to enjoying his work and having plenty of help, including that of quality contractors who have helped them build communities that they could be proud of. Randy's colleagues have also praised his professionalism, creativity and ability to work well with his contractors.
For more information on Randy Allen North Carolina Developer, visit their website.