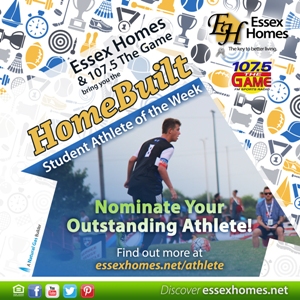 Essex Homes is proud to partner with 107.5 The Game each week for the Essex Homes "HomeBuilt Student Athlete of the Week." Every Tuesday, Tommy Moody will announce an outstanding athlete from a Columbia-area high school. Athletes will be nominated by Essex Homes' customers, listeners, homeowners, teachers and coaches. The athlete must not only possess athletic prowess, but also demonstrate positive leadership in the classroom and amongst their peers and teammates.
The chosen athlete will be invited for an interview with Tommy Moody and will receive a sports pack from Essex Homes and 107.5 The Game. In addition, the school will receive special recognition on air, and Essex Homes will donate $107.50 to the school's Booster Club.
Essex Homes is currently searching for athletes to be featured as the HomeBuilt Athlete of the Week. Nominees should excel in academics, exhibit team spirit, be a team player and possess positive leadership qualities. To nominate a student athlete that fits this description, visit www.EssexHomes.net/Athlete. Join Tommy Moody every Tuesday to hear his pick of the week!