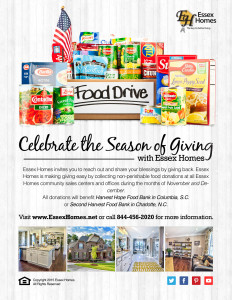 Essex Homes celebrates the holiday season by giving back to those in need through the Harvest Hope Food Bank in Columbia as well as the Second Harvest Food Bank in Charlotte. Essex Homes will be collecting non-perishable food donations at all Columbia-and-Charlotte-area community sales centers and offices during the months of November and December.
All food donations must be non-perishable items which can include canned vegetables, canned meats, dry goods, peanut butter, beans and much more. Some of the most needed items at either bank aren't even food – diapers and detergent can help make a big difference as well. To see more of the most needed items at Harvest Hope, click here. If you don't have time to stop by an Essex Homes sales centers or office this holiday season but would like to make a monetary contribution, donators can do so by visiting www.harvesthope.org/money or www.secondharvestmetrolina.org.
All of Essex Homes' model homes and sales centers are open Monday through Saturday from 11 a.m. to 6 p.m. and Sunday from 1 to 6 p.m. Essex Homes is asking for any and all donations, "no donation is too small or too big, help us help others in need this holiday season by giving back to our communities" says Mike Cancilla, Columbia Division Manager with Essex Homes.
Locations for all Essex Homes communities are listed on their site here. For more information, visit www.EssexHomes.net or call 803-356-8301 in Columbia or 704-423-8988 in Charlotte.