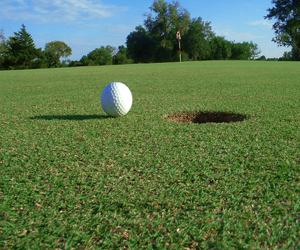 So maybe your golf game is not quite up to par with Masters champion Bubba Watson, but your North Carolina home sure could be. Forbes recently reported that the newest Masters champion's lakefront home in Lexington, N.C. is selling for $1.45 million.
Watson's home has been on the market since February, but his newfound notoriety is sure to help this home become a highly desirable commodity. The home, which was purchased a few years ago for $1.1 million, is situated on High Rock Lake. This gated, 5,000 square foot home has four bedrooms, five bathrooms and two indoor kitchens. The two-thirds of an acre lot also contains a detached three-car garage, aluminum pier with covered boat life and entertaining area. This entertaining area is sure to be a hit for any occasion with its location over the lake and features such as a heated salt water pool with spa, outdoor kitchen with stainless steel appliances, exterior television and outdoor fireplace.
This has historically been the summer home for the Watson family, with their main place of located in Scottsdale. However, the couple has decided to sell the home after adopting their one month-old son. They will be residing with him in Orlando until the adoption process is complete.
Interested buyers can view pictures of this gorgeous home here, or if Masters-style lake living isn't your thing, check out the rest of the Carolina new homes on our site.