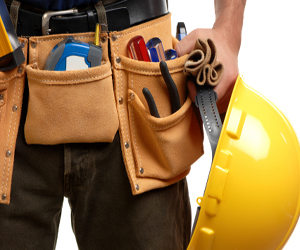 So, you're about to make repairs to  your home. Is it because you're preventing further upkeep while you wait for the real estate market to change? Is it because you just can't put it off any longer? Or are you preparing to sell your home in what you see as a shifting market?
The
Equifax Personal Finance Blog recently posted an article by real estate expert Ilyce Glink entitled "
Best Time of the Year to Start Big Home Improvement Projects."  Glink reports on the ServiceMagic Q3 Remodeling and Repair Index, which shows that homeowners are focusing more on necessary repairs and less on remodeling and addition projects.
These repairs are coming after a period that Equifax has previously reported as a time focused on paying down consumer debt. In fact, 46 percent of the homeowners say they have put off making repairs for more than a year, but could wait no longer. The report shows an increase in repair and maintenance services on heating and furnace systems, septic tank and well services, roofing, and window installation.
While the ServiceMagic report seems to show people making repairs as they prepare to stay in their homes for awhile longer, sometimes real estate agents will have their sellers make repairs so homes will be more attractive to potential buyers. With other positive news in the credit-sphere – such as the loosening of credit to subprime borrowers and historically low interest rates – here's hoping the trend is shifting toward those who are getting ready to become active in the housing market.
To read the results of the study, Glink's analysis and her tips if you're looking to have major work performed on your home, visit the
Equifax Personal Finance Blog.  Then report back here to let us know if you're making repairs to your home and why you're choosing to make them now.