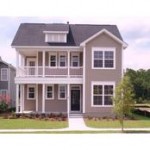 Red Cedar Place is pleased to announce the new sales and marketing team at its peaceful community located in historic Bluffton, S.C. Jerry Grubb, Sara Kurtz and Mike Daniels come to Red Cedar Place with more than 30 years of real estate knowledge and experience. Red Cedar Place at Bluffton Park is the epitome of "front-porch" living with six distinctive home styles offering 1,400 to 3,000 square feet, starting at $169,900. 
 Jerry Grubb brings more than 25 years of award-winning Real Estate Sales and Management experience to Red Cedar Place as the community's new Broker in Charge. Grubb has been in South Carolina for 12 years and has been at Bluffton Park since development started seven years ago. He most recently worked for a national home building company where he received several awards for sales achievements.
 Sara Kurtz returns to the work industry after taking off six years to raise her family. Prior to Red Cedar Place, Kurtz worked in sales for Sevista Technologies, an e-marketing company out of Atlanta, as well as spent three years in sales with Telemate.Net Software. Kurtz's real estate experience includes three years in sales with JPI, one of the largest luxury apartment development companies. Kurtz brings her sales and marketing experience to Red Cedar Place as their new Director of Marketing.
 Mike Daniels joins Red Cedar Place as the Project Manager of Construction. Daniels graduated from East Carolina University in 2005 with a Bachelor's of Science Degree in Construction Management with a minor in Business Administration. Prior to Red Cedar Place, Daniels worked for a national home builder and has experience with custom home building as well as commercial building. 
With the combined experice of these three individuals Red Cedar Place will become a wonderful community.  They will make Red Cedar Place a tradmark in the South Carolina real estate market.