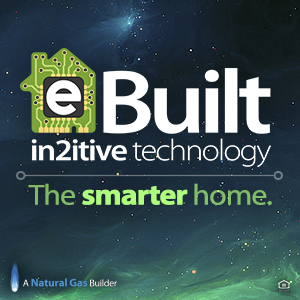 We live in a world with so many technological advancements that it's often hard to keep up with the ever-changing times. Complete home automation may sound too technical, complex and expensive to some homeowners because it's been uncommon for so many years. But take a moment to visualize what it would be like to have comprehensive control of multiple rooms in your home with just your cell phone. Consider having the ability and capability to properly manage energy to help lower your utilities. Imagine no longer – what was once a fantasy is now a reality with Essex Home's new eBuilt In2itive Technology!
Essex Homes is always finding new ways to make their Columbia-area buyers' lives easier, healthier and more economical. They have advanced their already incredible eBuilt Technology program by announcing the release of eBuilt In2itive Technology. Buyers will still get the same great building technology that has been saving them hundreds every year, except now they can control their home with their smart phone.
The In2itive smart home automation system allows buyers to control various aspects of their home with the touch of a button with no monthly fee.  The eBuilt In2itive Technology program offers whole-house automation with options for multi-room audio, lighting and outlet controls; camera monitoring and video door entry; whole-house intercom; home security system integration; and a surface-mounted command center controller. Essex Homes provides buyers with an integrated system that syncs with numerous components such as the Schlage key-less door lock and the Honeywell smart thermostat.
Life makes it difficult for you to be where you need to be on time and it's certainly impossible to be two places at once. Having the convenience of accessing your home systems remotely can be a time and life saver. With savings in mind, Essex Homes has provided the In2itive system to help buyers manage their home's energy consumption. With your smart phone, you can automate your thermostat to adjust the settings throughout the day. Wireless home security is also a feature that can't be ignored. With camera monitoring and video door entry, buyers can rest assured that their home is safe at all hours of the day.
Essex Homes builds homes so you can live better and smarter. For more information on this new technology or any of our Columbia-area communities, prospective buyers can call 844-456-2020 or visit www.EssexHomes.net.