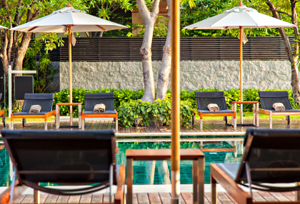 Outdoor living spaces have been a hot home design trend for the past few years. If you have been one of the many who recently added an outdoor living space, like an expanded deck or porch with seating, outdoor fireplace or kitchen, gazebo, pool, hot tub, etc., it may be time to check your homeowners insurance policy to ensure that those spaces are covered.
A recent article on the Equifax Finance Blog, "
5 Reasons to Update Your Homeowners Insurance This Summer," gives five situations in which you might need to re-evaluate your policy.
If you recently made an outdoor improvement (these spaces may or may not be protected in your existing policy)
If your outdoor property is in poor condition (ex: an old wooden deck with deteriorating planks)
If you need different coverage (like bodily injury protection)
If you need more coverage (like the kind you can get with an umbrella policy added onto your existing property)
It's been a while since you reviewed your policy (you may be eligible for savings or discounts)
Get more insurance tips and advice at the Equifax Finance blog, as well as tips on other finance topics like retirement, taxes,
credit ratings, identity protection and more.