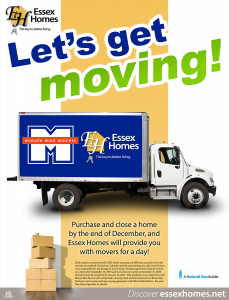 You finally did it; you closed on your brand-new home! You went through various emotional stages from being nervous and anxious about making a large financial investment to worried about picking colors and design options, and then excitement that your home was nearly complete! Now that the contract is signed, you think you can finally relax. Wrong! Moving your household items and personal effects is one of the most stressful parts of purchasing a new home. Most people are so focused on the big picture of buying a house that they forget about having to move their stuff. Luckily, buyers in the Columbia area can rest easy because Essex Homes has teamed up with Minute Man Movers to bring you "Let's Get Moving!" Purchase and close on an Essex home by the end of December and be provided with two movers and a truck for a day!
Essex Homes prides itself on saving buyers money. Most buyers are unaware of the hidden expenses and financial needs of purchasing a new home, including the costs associated with moving. Moving expenses can cost a pretty penny, but Essex Homes has found a way to ensure their buyers do not have to worry about them. Essex Homes also has a new eBuilt Technology program that can save home buyers thousands of dollars every year on their utility bills with its energy-efficient techniques and materials. These are just two of the ways Essex Homes saves its homeowners money throughout the process of purchasing and owning a home!
Minute Man Movers is a small family owned and operated business located in South Carolina. Essex Homes wants to protect their buyers in every aspect of the buying and moving process; therefore, teaming up with Minute Man Movers was an easy decision. One of the benefits of hiring professional moving crews is the assurance that your belongings will be transported suitably for your moving needs, whether it's across town, across the state or across the country.
Essex Homes has a generous amount of move-in ready homes waiting for loving homeowners. Close on your new home before December and let Essex Homes and Minute Man Movers do all the hard work for you!
For more information on Essex Homes or the Let's Get Moving promotion, visit www.EssexHomes.net or call 844.456.2020.