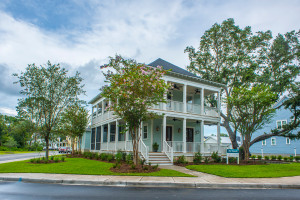 Carolina Real Estate Forum congratulates FrontDoor Communities for winning three top PRISM Awards. The PRISM Awards program was developed in 1988 by the Charleston Home Builders Association Sales and Marketing Council to recognize excellence in the field of sales, marketing and the promotion of new homes.
FrontDoor Communities' Freeman's Point was the recipient of two PRISM Awards. Awards included Best Model Home in the $475,000 to $500,000 category for The Seaside, as well as Best Billboard. Located on James Island, Freeman's Point is the area's premier waterfront community. Minutes from downtown Charleston and the cities most well-known beaches, the community is situated around a waterfront park that is the perfect place for making memories. Whether buyers prefer a waterfront dream home or a charming residence surrounded by neighbors who quickly become friends, Freeman's Point is truly a community like no other.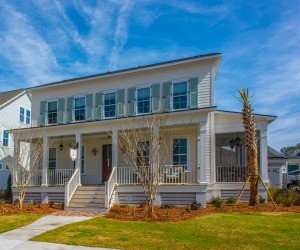 FrontDoor Communities' model home at Carolina Park, The Horlbeck, was also recognized as Best Model Home in the $500,000 to $525,000 category. A 1,700-acre master-planned community in Mount Pleasant, Carolina Park combines the best of recreation, shopping, education and gracious Lowcountry living into a park-like setting. FrontDoor Communities currently has eight unique homes available at Carolina Park ranging from the mid-$400,000s through the $500,000s. Surrounded by resort-style amenities, 220 acres of preserved wetlands, a Town Center and much more, Carolina Park is the perfect place for families of all sizes to call home.
FrontDoor Communities is a leading Southeast home builder and community developer that consistently strives to exceed customer expectations. Led by a team of proven professional with more than 25 years of industry experience, FrontDoor is thoughtful in planning and committed to developing and building communities and homes that stand the test of time.
For more information about Freeman's Point, visit www.FDCCharleston.com/FreemansPoint or call 843-406-6636. To learn more about Carolina Park, visit www.FDCCharleston.com/CarolinaPark or call 843+-881-5881.
The Charleston Home Builders Association was established in 1959 to provide continuing support for the local homebuilding community. The CHBA is dedicated to the future of the Lowcountry and works to promote homeownership through networking, education, advocacy and community outreach. For information about the PRISM Awards and a list of the 2015 PRISM Award Winners, click here.