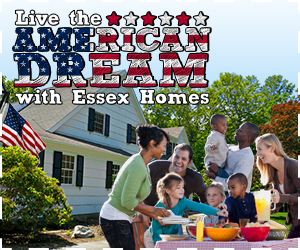 What do you think of when you think about the American dream? Is it a white picket fence, baseball in the backyard or family around the dinner table? Whatever your particular American dream might be, Essex Homes wants to help you make that dream a reality with their "Live the American Dream" incentive going on now through Sept. 30. Essex Homes is offering three levels of incentives – the Red, the White and the Blue – for buyers who purchase a home in Columbia, South Carolina.
New home owners will qualify for the Red incentive when they purchase a Premier Series home priced from the $120,000s. A purchase of a home from this series will result in the home buyer receiving blinds throughout the home, a refrigerator, washer and dryer and a garage door opener. This Red incentive will have your new home ready for move in; all you'll have to do is add furniture.
The purchase of a home from Essex's Classic or Prestige Series will present the buyer with the White incentive worth $5,000 in designer upgrades. These homes start in the $140,000s, and the incentive will give the homeowner the opportunity to play a role in the fabrication of their home.
Buyers purchasing a home in the Signature or Executive series starting in the $200,000s will qualify for the Blue incentive. As a part of this incentive, home owners will receive $7,500 to use toward designer options in their home. Luxury will be within the grasp of Essex Homes' buyers with the Blue incentive, but these incentives will only be available for a limited time, so contact Essex today!
To determine which of Essex Homes' communities are eligible for these incentives, or to find more information on the many new homes in the Columbia market, click here or call 844-456-2020.