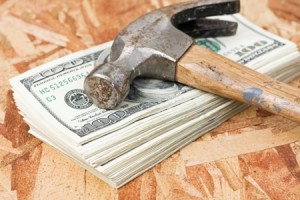 Many homeowners that need to complete a home renovation debate taking out a loan or using their savings to cover renovation expenses. Two popular options for those not wanting to tap into their savings are a home equity loan or a home equity line of credit (HELOC).
What's the difference? A home equity loan is similar to a mortgage in that you are given a specific amount that you must repay over time in fixed monthly payments. A HELOC is a line of credit that you can use when needed as long as you don't exceed the credit limit. There are monthly payments with a HELOC, but you may be able to make interest-only payments for a period of time.
A home equity loan or HELOC can be a good route for some people, but first you should ask yourself the following five questions that the finance experts at Equifax discuss in the recent article, "Paying for Home Renovations: Tapping Home Equity vs. Using Savings," to find out if you are in a situation where taking out a home equity loan or a HELOC would be a smart financial move for you.
How much debt do you already have?
If you already have a great deal of debt, especially debt that has a high interest rate, you should evaluate whether you can take on any additional debt at this time.
How much equity do you have in your home?
If you have less than 20 percent equity in your home, it might not be a great idea to borrow against it for three reasons. First, if you are paying private mortgage insurance, it is good to eliminate that payment first. Second, many lenders want you to have some stake in your home and will not let you borrow if you have less than 20 percent equity in your home. Third, you could potentially lose a significant amount of money if you put yourself in a financially unstable situation and your home value drops.
How much are you thinking about borrowing?
Getting a home equity loan is similar to getting a mortgage and involves similar start-up costs such as an appraisal, an application fee and closing costs. Be prepared to pay these costs and also be aware that home equity loans can carry adjustable rates and your monthly payments could go up over time.
How much cash do you have?
If you don't have enough in savings and do have a significant amount of equity in your home, a loan or HELOC would be a good option for you, especially since interest rates are so low right now. If you have a lot of cash in savings, it is probably not worth borrowing money that you will have to pay back with interest, unless the home renovation would eat up all of your savings and leave you with no emergency funds.
How long do you plan to stay in the house?
Keep in mind, if you are doing a home renovation with the intent of selling before you have a chance to pay off the loan, you should consider having another means of paying off the loan. This is because when you choose to tap into your home equity, you are using your home as collateral, and if you sell your home, that collateral disappears.
In the end, whether you decide to use savings or borrow money with an equity loan or HELOC for your home renovation, keep your return on investment in mind and make sure the investment is worthwhile.
For more tips, visit the Equifax Personal Finance blog.