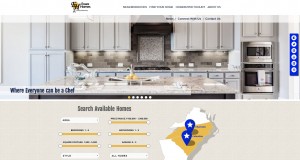 New home builder Essex Homes recently launched its new website, www.EssexHomes.net. This re-vamped and re-designed website provides the ultimate user-friendly experience with improved functionality.
Designed by marketing, communications and interactive agency Marketing RELEVANCE, LLC to be fully responsive and easy to use, this new site will help buyers find a new home in Charlotte or Columbia quickly and easily for all mobile, tablet or desktop users. The improved navigation throughout the site helps homeowners find that perfect home they've always dreamed about.
The new EssexHomes.net has already proven effective with an increase in leads over the first two weeks. Incoming leads increased by 86 percent.
Additional features on the new site include:
A desktop, tablet and mobile user-friendly experience thanks to its responsive design. The site is easy to navigate and search from any type of device, making it easy to find information from home or on-the-go.
Improved Google Map functionality means that browsers can get detailed information on the community location and amenities in the surrounding area, including schools, recreation opportunities, grocery stores, restaurants, shopping centers, medical centers and more.
An industry-specific backend that makes it easy for the Essex Homes team to manage data on the website. This means that buyers will have up-to-date information about available homes, open communities and more.
To view the new Essex Homes website or learn more about the Carolina home builder, visit www.EssexHomes.net.