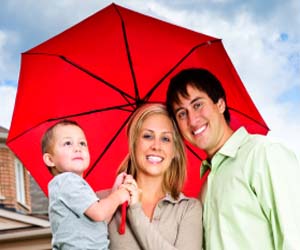 Why should your home need an umbrella? Well, when litigation rains (and it seems to reign king in society these days), you're going to want to make sure your home and all your assets are covered. An umbrella policy may be the extra coverage you need.
Especially for homes and families that have pools, dogs, teenagers, motorcycles, boats or RVs, lawsuits are the rain cloud that's always hovering nearby. One accident, and you could end up paying with your current assets and your future earnings.
Homeowners insurance and auto insurance will cover some liability, but they have there limits. According to the
Equifax Personal Finance Blog, that's where an umbrella policy steps in. It protects assets and income when the limits on your basic policies have been reached, plus it will step into some situations your other policies won't touch.
The Equifax article, written by insurance expert Linda Rey, is titled "
Umbrella Insurance: The FAQs."  It says that some things an umbrella policy might cover where you would otherwise be left on your own are overseas claims, non-business-related personal injury cases, and liabilities that occur off your property.
Umbrella policies are sold in increments of $1 million, and you may think you don't need one because you simply don't own that much stuff. However, when you add the value of your Carolina home with your investments, assets, future earnings potential and even your future pension income, you may be surprised at how much you have to lose.
The good news is that you may be able to get a discount on your policy. Try purchasing auto, home and umbrella insurance from one provider, and you should receive a cut in your premiums. And that doesn't count what you will save on peace of mind.
For more details on umbrella policies and to make comments or ask questions of the experts, visit the